Maximum Amplitude
Courtney Kupets Carter sticks the landing from GymDog to head coach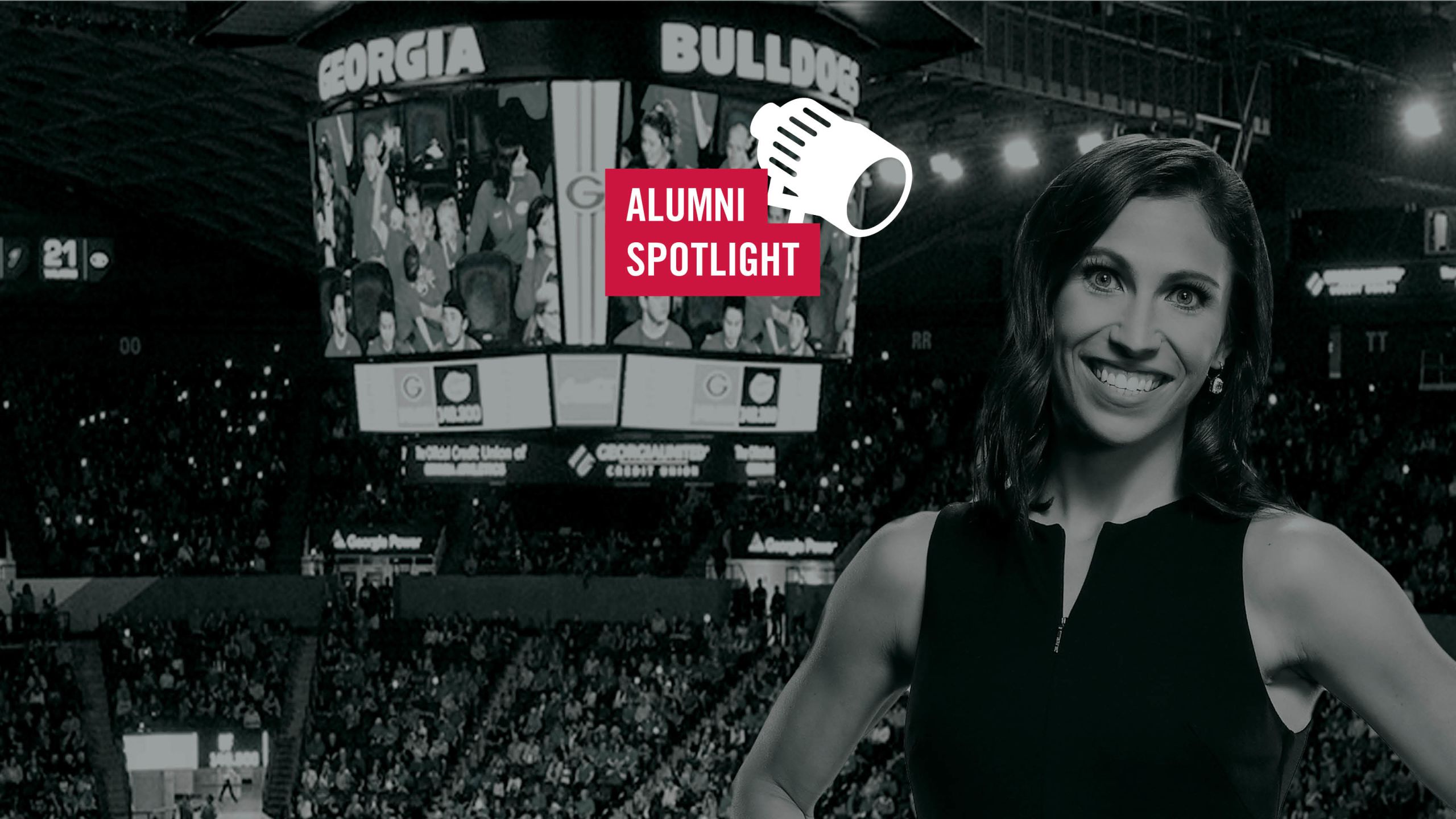 Courtney Kupets Carter
(B.S.F.C.S. '10, M.S. '13)
Degree program: Kinesiology
Current position: Head coach of the University of Georgia women's gymnastics team
Lives in: Athens, Georgia
---
Courtney Kupets Carter enjoys a challenge.
In 2017, she faced her biggest challenge yet: leading the GymDogs to success as the head coach of UGA's gymnastics team.
While she had thought about accepting other coaching positions, none of them felt quite right. So, when the position for head coach at UGA opened up—a role she'd coveted since her days as a GymDog herself—she immediately submitted her name for consideration. When she was offered the position, some questioned her lack of coaching experience. But her team was overjoyed—many had followed her gymnastics career since her days competing in the 2004 Olympic Games.
"As a gymnast, you have your team's support, but it's really up to the individual athlete," she says. "As a coach, I'm looking at every single piece of it—making sure everyone is feeling good, looking at their energy, demeanor, skills, how injuries are healing, and so many more pieces on different levels."
Since taking the helm, Kupets Carter (B.S.F.C.S. '10, M.S. '13) has brought the GymDogs to new heights. In her first year as head coach, she led the team to seventh place in the NCAA. In 2019, UGA received its highest season-opening score since 2007, and Kupets Carter was named the Women's Collegiate Gymnastics Association's Southeast Regional Coach of the Year. During the 2019 season, the GymDogs brought in an average of 10,102 fans per meet, the highest in program history. 
Kupets Carter's gymnastics career began when she was 3 years old, and she quickly rose to the top of the sport. She reached elite gymnastics status in 1999 and became a back-to-back U.S. national champion in 2003 and 2004. Her success landed her a spot on the U.S. Olympic team in 2004. While competing in Athens, Greece, Kupets Carter contributed to the team's silver medal and earned herself an individual bronze medal on the uneven bars.
"I had a minor injury during the Olympics—a slight fracture in my hip," she says. "We didn't know it at the time; it just felt like a pulled muscle. But I kept going—I wasn't going to stop for anything, but it was difficult. I look back at pictures, and I can still feel the pain, which is definitely overshadowed by the medals and the team."
Following the Olympics, Kupets Carter joined UGA's gymnastics team in 2005 and began her collegiate career under the leadership of decorated head coach Suzanne Yoculan. Carrying over her professional success to UGA, the GymDogs won a team national championship in 2006, and Kupets Carter won the individual all-around, uneven bars, and balance beam national titles. Now 33, her face is on the center of the arena wall in Stegeman Coliseum along with several other UGA athletic legends. Serving as the head coach of a team she was once a part of is a surreal experience for the Double Dawg, who received her master's degree in kinesiology in 2013.
"When I look at myself as a competitor and an athlete, I felt I did my best at giving everything I had both inside and outside the gym—so whatever happened, happened," she says. "As a coach, I'm preparing my athletes for those moments." The GymDogs' staff consists of a trainer, nutritionist, strength and conditioning coach, academic counselor, and three coaches, including Kupets Carter. The team practices four days a week and typically competes once a week. 
The biggest challenge of coaching for Kupets Carter is also what she loves most about her job: preparing for the unknown. Whether she's adjusting the competition lineup based on injuries or helping an athlete work through a personal issue, Kupets Carter handles each situation with grace and patience. 
"They usually say your biggest gift is your biggest weakness," she says. "I would love for my plan to just work out the way I've planned. But at the same time, I love challenges. It's one thing I thrive on best. I feel like when tough situations happen, I'm ready. I'm not looking backward."
---